Blog post
It's time to reinvent commercial and defense aviation
Written by Roel Van De Velde
October 3, 2022 · 6 min read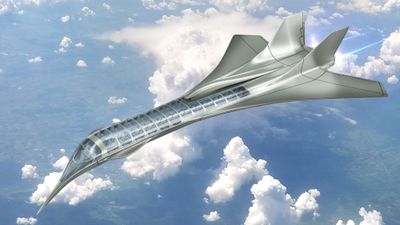 Due to growing societal awareness regarding climate change, and governments starting to act forcefully, commercial aviation is under pressure to reinvent itself. Decarbonizing flight does not only mean looking at alternative propulsion technologies such as battery-electric, hybrid or hydrogen, but it also means looking at aircraft configurations that are a departure from the established 'tube and wing', for example the blended wing body, flying V or truss braced wing, who all promise a significant reduction in emissions.
Rising geopolitical tensions are causing Western governments to challenge their defense industry base to innovate faster and cheaper. A 20 year wait time for the next generation fighter that's massively over budget will no longer be accepted. Governments are expecting a significant increase in the use of modern digital engineering tools, so that they can buy with confidence and protect their freedom and democracies.
Finally, while at this point it is still more hype than reality, there is serious investment in urban air mobility, supersonic and hypersonic flight, where each application comes with its own challenges to model and simulate engineering problems related to structure, aerodynamics, noise, safety, and cost for example. I wrote more about this in my previous blog post.
Solving these problems may seem daunting at first, but a big step in the right direction would be to use domain specific simulation tools that can be integrated and automated in a modern, all-encompassing framework for Multidisciplinary Design Optimization (MDO) and Simulation Process and Data Management (SPDM). This will allow you to easily conduct trade studies and find the optimal design by collaborating, not only internally between different departments, but also externally between prime and supplier, or prime and customer for example.
More than the right set of tools: a culture shift is a must
The biggest challenge is probably the culture of siloed waterfall development, and the "we have always done it this way" mindset. Related to this: not knowing where to find certain models or simulation data, what their latest version is, who the original author is, what changes have been made, etc.
ESTECO's independence and openness allows for integration of any 3rd party tool, whether commercial or in-house. ESTECO modeFRONTIER, our desktop client for MDO, has always been considered best-in-class, but as with any desktop application, it has its limitations when it comes to collaboration and data management.
To address those limitations, and to also enable the cultural change required, we developed ESTECO VOLTA, our server based digital engineering framework for MDO and SPDM.
ESTECO VOLTA is an Authoritative Source Of Truth (ASOT) for all simulation data, which allows for people from different departments to come together, share information, and truly collaborate on the next design.
ESTECO VOLTA has a very modern and easy-to-use web interface, and through its tiered access these capabilities can now be quickly scaled up across the organization, from novice to expert.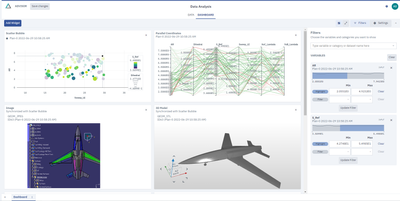 Going forward - an authoritative source of truth, rather than a single source of truth
The biggest trend that we are seeing is that customers want to integrate MDO and SPDM capabilities with their PLM and MBSE environments, in order to maintain a digital thread and provide access to the right data at the right time.
There sometimes is this misconception that there can be only one ASOT, but we disagree. Any large organization will have multiple ASOTs, for example one for PLM/CAD, one for simulation data, one for requirements, etc. Of course, these ASOTs will have to be able to "talk to each other."
This is where our API comes in. Through ESTECO VOLTA's API, we can integrate directly with PLM and MBSE tools, but we can also support integration with semantic brokers such as Intercax Syndeia or SBE Vision who take care of data translation between environments.
Enabling the digital thread with VOLTA SPDM
Overcome silos and make the best of simulation-driven product development
Enabling the digital thread with VOLTA SPDM
Overcome silos and make the best of simulation-driven product development
Read ebook
Enabling the digital thread with VOLTA SPDM
Overcome silos and make the best of simulation-driven product development
Read ebook