The aerospace and defense industry is facing multiple challenges to deliver innovative aircrafts, meet customers' demands and reduce time-to-market at the same time. Fuel efficiency, structural weight, environmental impact are just some of the many aspects that must be considered in the aircraft design and that may lead to conflicting objectives. To face this challenge, bringing all disciplines together and focusing on the overall design, balancing the different goals and requirements is crucial.
With more than 20 years of experience in the field, with our software solutions modeFRONTIER and VOLTA, we support airplanes manufacturers in accelerating and innovating the engineering process.
Addressing the MDO challenge in Aerospace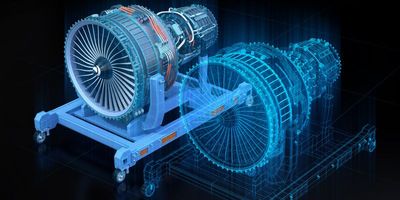 Our technology has been used by major aircraft OEMs to unleash Multidisciplinary Design Optimization (MDO) and collaboration both across and outside organizations. With our silo-breaking software solutions, they can bring multiple disciplines together (such as propulsion, geometry, mass properties, aerodynamics, takeoff, and so on) and start designing the aircraft as a whole from the very beginning. All teams involved can collaborate to better understand the design space, manage simulation and process data, analyze design alternatives and decide on an optimal configuration.