Blog post
How Simulation Process and Data Management (SPDM) technology can ease simulation-driven development
Written by Luka Onesti
November 17, 2021 · 8 min read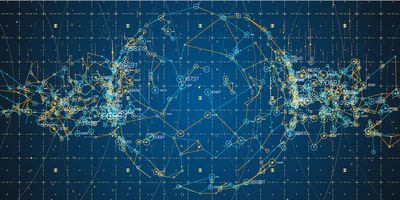 Companies are striving to respond in a timely manner to market needs and to intercept new business opportunities. In such a dynamic scenario simulation-led design has become a key-enabler and engineering teams require methods and technologies capable of communicating data both inside and outside the company.
This way of working has ignited a digital transformation, whose foundations have quickly become the Digital Twin and the Digital Thread. The first is the highly complex virtual model that is the exact counterpart of a physical product, while the latter is the flow of information generated during the entire product lifecycle from its creation to its disposal.
The Digital Twin and the Digital Thread
In many contexts the Digital Twin is the digital model of the product as it is designed and engineered: the digital model of a specific product. However, with upfront digital prototyping through engineering, the product often changes during its operational life. To trace this evolution, a Digital Thread can map the digitization and traceability throughout a product's lifespan.
By connecting the product along the entire value chain, the Digital Thread links all of the Digital Twin constituents such as the product's design, specifications and performance to name a few. At the same time it enables design requirements, records, and all the data related to the product to be updated promptly by every company function: from accounting to warehouse management. In this way, for example when there is a need to improve the product during its operational life it is always possible to quickly identify the elements on which to operate and to provide useful information in near real time to designers, engineers and the production that will adapt immediately and consistently.
In addition to product data, the Digital Thread also leverages simulation data, essential in the
decision making process on designs and requirements. The real challenge here is on how to efficiently link simulations to the Digital Thread. Enabling engineering teams to re-use simulation data and best practices across all stages of the design cycle is ideal as it will enable controlled analysis of data throughout a product's lifecycle to be processed into valuable information.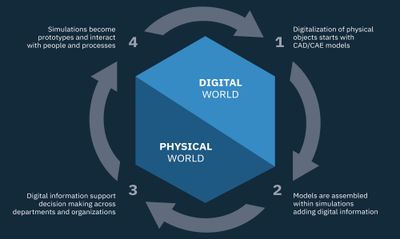 Simulation Process and Data Management challenges
In the process of connecting simulations to the Digital Thread, the orchestration of many fundamental multidisciplinary analysis becomes of paramount importance. However, taking full control of data and providing functioning configurations for the right set of models and simulations pose some demanding challenges.
High level of processes and data complexity - numerous simulation iterations are usually necessary to find the optimal design solution and these consume important computational resources and create huge volumes of data.
Proliferation and traceability of simulation data - when working across many domains validation and big data management, the traceability and the reliability of data from of a "single source of truth" becomes more complicated.
Globalization and templatization of simulations - sharing workloads among global offices makes even more crucial the ability to collaborate and use common templates and data models.
Democratization of simulations - the real democratization of the simulation results is only possible as models are made easily available at all business levels and functions.
Critical decision-making - the capability of making strategic decisions is boosted by efficient collaboration tools that decrease the slack of data-inconsistency and increase the 'first time right' actions.
Here is where Simulation Process and Data Management (SPDM) takes the lead.
SPDM functions like a knowledge management application for simulations. It effectively allows to manage simulation data configurations, secure and streamline processes and facilitate collaboration with global access to teams distributed in different geographical areas. It provides traceability and enables informed decision making for the product design optimization.
VOLTA SPDM platform for efficient and secure collaboration
ESTECO has been working in this direction for over a decade and our VOLTA software platform is focussed on scaling up the use of simulation models with process automation, design exploration and optimization techniques, spanning across global organizations and teams with an emphasis on accelerating time to market.
As an advanced SPDM solution, VOLTA provides seamless collaboration across individuals: the organization of the workload, versioning and permission to share results at any given granularity guarantee a single source of truth.
Engineering teams can benefit from continuous collaboration throughout the simulation process with a common platform for distributing data, Multidisciplinary Design Optimization (MDO) technology and - more recently Business Process Management (BPM) capabilities.
The VOLTA platform improves the engineering throughput by allowing the identification of better products and reaching markets in less time than before. It also gives room for faster engineering collaboration, where everyone can access every information immediately, reducing the delegation and distribution time.
Scaling up SPDM with Business Process Management
The latest version of the VOLTA platform includes a new Business Process Management (BPM) framework which provides the formalization and automation of the design product development, maximizing the enterprise-wide flow of engineering data. It further focuses on how to let companies move from a task-oriented simulation only view to a process-oriented and "human in the loop" approach.
Day-to-day activities in simulation-driven product development can be mapped, evaluated and broken into human and simulation service tasks, offering a detailed helicopter view of the entire process. The standard formalization of the simulation design process highlights any possible weak areas as well as the opportunities for cost savings and other improvements, leading to the overall optimization of all corporate business processes.

The VOLTA platform natively manages and controls all aspects related to CAE activities, it was designed to meet the specific needs of those involved in design simulation tasks but now it is also an integrated enterprise solution that combines people, processes and technologies to simplify and optimize all corporate wide operations.
The benefits of adopting BPM state of the art guidelines in large and complex enterprises are well documented in the literature (Business Analyst Learnings), there are also many industry specific examples (L7 Informatics) on the successful adoption of formal process management techniques in their already well-oiled routines. Therefore let's see how these benefit can really have an impact on a relatively new field like the SPDM:
Compliance and Transparency - as simulation-intensive technologies are adopted in routine critical industrial operations, it becomes a necessity for companies using this approach to make sure all processes are compliant with industry and government regulations. In the case of VOLTA the choice of adopting a standard BPMN representation for workflows coupled with detailed and transparent execution logs guarantee the fulfilment of all regulatory requirements, indeed including compliance into the process.
Productivity - the growing adoption of large and repetitive simulations, which will certainly also include many "human in the loop" tasks, can leverage BPM techniques for their automation, freeing up resources and time for other non-routinary activities. This will ultimately streamline departments' operations and make them more productive.
Measurability - organizations making long-term and expensive investments by adopting a full SPDM application must be able to measure their projected increase of productivity. Therefore the proposed solution must be designed to automatically provide reports and include analytical tools able to measure quantitatively the results of this new technological paradigm.
Agility - industrial operations need to rapidly adapt to any new challenges; with all corporate simulation-driven workflows managed within a single flexible BPM integrated application, it gets easier to design and change processes on demand and with minimal costs.
Risk Reduction - Integrating all corporate simulation software and processes within a single BPM-enabled application helps the organization to more easily identify areas of inefficiency, and of underestimated risk. Early identification, prompt redesign, and fine optimization of potential risky tasks reduce the probability of large system failures.
Users Satisfaction - users frequently complain about inefficiencies in their daily design simulation activities. There are difficulties in finding the already archived simulation campaigns, there is no clear definition on who is in charge for the optimization tasks or who should deliver the final report.
A proper and modern BPM integrated SPDM solution should be able to answer all these questions, it should remove all traditional hurdles and silos that curb the efficient collaboration of all corporate stakeholders, hopefully making them more efficient, cohesive, and satisfied.
Technology Ready - as the democratization of the simulation task progresses and the availability of its outcomes gets more ubiquitous it becomes clear that a modern corporate SPDM solution is not an island; it needs bridges and roads to connect to all constituents of a modern technological ecosystem. The adoption of standard and well-accepted industrial norms is the cornerstone of a platform ready to interact with all the main players in the engineering arena.
Reproducibility and Consistency - a standardized simulation workflow, better if it is fully adherent to BPM norms and philosophy, must be able to produce its outputs in a consistent way, the results must be repeatable even if the process is not under the supervision of its designer.
Transferability and Sustainability - if a standard workflow can be run consistently by anyone in the organization it becomes part of a centralized engineering knowledge that can be then freely transferred and reused within or outside the company. Finally, the robustness of this approach will become sustainable over longer periods of time, regardless of the common turnover of the company's personnel.
BPM empowers SPDM technology - ensuring full traceability and repeatable use of engineering data and best practices across all stages of the engineering design cycle. That's why ESTECO has embedded Business Process Management technology into VOLTA.
For more information read also the blog post From task oriented to process driven: business process management in VOLTA