Webinar
Robust design of a lithium-ion battery considering manufacturing tolerance
8 Nov 2023 | 1 PM EST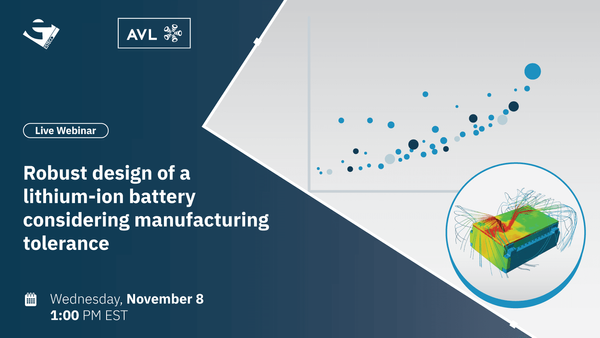 The joint webinar organized by ESTECO and AVL takes place on November 8, 2023 from 1:00 PM to 2:00 PM (EST).
Designing the best lithium-ion battery cell depends on many factors from materials design to manufacturing and more. In this webinar, ESTECO and AVL demonstrate how to address this challenge by combining the ESTECO Multidisciplinary Design Optimization (MDO) technology with AVL multi-physics system simulation tools.
Among other factors, the impact of manufacturing tolerances on cell performance is a crucial aspect to consider when designing a lithium-ion battery. The Robust Design and Reliability capabilities within ESTECO modeFRONTIER are able to take these uncertainties into account and manage them effectively from the early stages of product development.
During the webinar, experts from ESTECO and AVL will highlight the benefits of coupling ESTECO modeFRONTIER and AVL CRUISE™ M Electrochemistry Battery Model.
Specifically, this methodology allows engineers to examine the sensitivity of manufacturing tolerances on an NMC811 battery cell to the performance and to quantify the tolerance for minimal performance variation.
About AVL
AVL is one of the world's leading mobility technology companies for development, simulation, and testing in the automotive industry, and beyond. The company provides concepts, solutions, and methodologies in fields like vehicle development and integration, e-mobility, automated and connected mobility (ADAS/AD), and software for a greener, safer, better world of mobility.
Agenda
ESTECO and AVL Introduction (10 min)
Case study: problem setup, definition and optimization results (40 min)
This case study combines:
an initial sensitivity analysis,
a design optimization study balancing key performance criteria,
and a final robust design assessment.
Conclusions and Q&A (10 min)
Presenters