Webinar
Engineering Design, Simulation, and Optimization in the Cloud
17 Nov 2021 | 4 PM CET
This event has already taken place, watch it now.
Watch now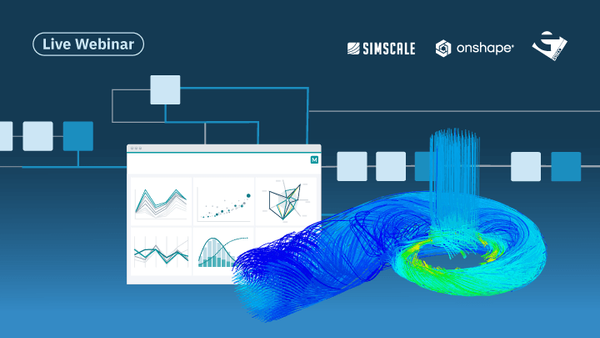 On 17 November 2021, ESTECO, Simscale and Onshape co-host a joint webinar demonstrating how to introduce a modern design-simulate-optimize workflow in a product development cycle.
As components, parts, devices, and products are expected to last longer, perform better, be updated faster, and cost less, engineers are faced with increasingly complex design challenges that were unimaginable only a decade ago.
Many engineering simulation tools were created to support engineers but, unfortunately, the bottlenecks remain: collaboration with distributed teams and customers, scalability needed for speed and accuracy, wrangling of massive datasets and version management, ease of use, and 24/7 availability from anywhere.
The joint webinar is co-hosted by Aaron Magnin, Partner Success Manager at Onshape, Steve Lainé, Application Engineering Manager at SimScale and Gabriele Degrassi, Support Engineer at ESTECO. They're going to present a design-simulate-optimize workflow relying on simulation tools built on the latest cloud computing technology, currently the only technical platform that can deliver on the promise of liberating engineers from legacy software constraints and hardware limitations.
A real-world case featuring the design optimization of a centrifugal pump will be presented live and the webinar will conclude with a Q&A session.
Agenda
Welcome and Introduction
Onshape/PTC - live demo
SimScale - live demo
ESTECO - live demo
Moderated Q&A
Concluding remarks
Presenters
Aaron Magnin - Onshape
Steve Lainé - SimScale
Gabriele Degrassi - ESTECO