Webinar
Integrating GT-Suite, ANSA, TaiTherm and modeFRONTIER to optimize a muffler heat shield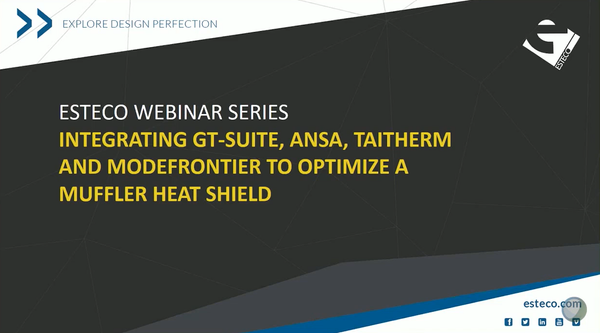 This webinar hosted by ESTECO, Gamma Technologies, BETA CAE Systems and ThermoAnalytics, presents the successful integration of their technologies in the modeFRONTIER workflow to reduce bumper temperature through coupled simulations for a compact car.
Expert engineers from GT-Suite, BETA CAE Systems, ThermoAnalytics and ESTECO will demonstrate the advantages of the integration of their software to reduce bumper temperature in order to prevent car paint peeling.
Watch it to find out more about an integrated approach to modify the muffler heat shield properties to reduce bumper temperature by implementing various solvers.