Webinar
Leveraging smart design exploration for resource-intensive CFD analysis with modeFRONTIER and EXA PowerFLOW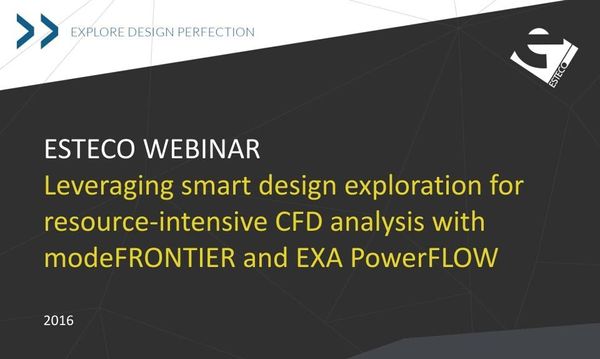 ​This webinar presents a smart combination of modeFRONTIER with the PowerFLOW Suite.​​
ESTECO and Exa integrate their software platform to serve the automatic creation of highly accurate RSM models purpose. The combination of the adaptive sampling of the new modeFRONTIER ASF algorithm and the Exa's high-performance simulation and visual flow analysis tools leads engineers to an enhanced understanding of trends seen in the generation of new design options.
Watch this webinar to learn more about:
A smart filling strategy of ASF perfectly to create automatically of highly accurate RSM models purpose.
How CFD analysts and designers can fully exploit the advanced prediction capability of Exa's PowerFLOW and obtain high-fidelity simulation of real-world flow conditions without compromising geometric detail for a smaller number of significant and better performing designs.