Webinar
Spot on Response Surface Methods (RSM) in modeFRONTIER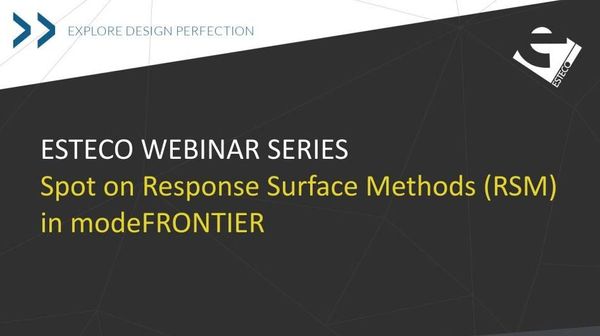 In this webinar, Danilo Di Stefano (Product Manager at ESTECO) and Alberto Clarich (Technical Manager at ESTECO) demonstrate the newly added RSM Trainer Node, and how to combine it with the innovative Adaptive Space Filler (ASF) and other analytics tools in modeFRONTIER.
RSM-based optimization is an excellent strategy to manage heavy simulation processes: by acting as surrogates of simulation models, RSMs let engineers fast-run the classic optimization process.
Why watching this webinar?
This webinar give insights on the advanced RSM capabilities included in modeFRONTIER
Discover the new automation of RSM training and learn how to re-use the model both for the same workflow and other projects​​
Find out how the new Adaptive Space Filler combines state-of-the-art space filling strategies with the predictive ability of response surfaces.
Get to know two real-world case studies leveraging modeFRONTIER RSM capabilities