Blog post
Simulation-driven design with hyperautomation: streamlining human tasks and MDO with automated business process workflows
Written by Alessandro Viola and Marco Turchetto
November 16, 2023 · 5 min read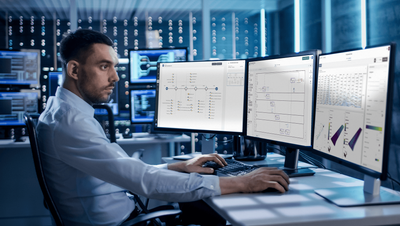 In a previous post, we discussed how we take VOLTA digital engineering platform to the next level by introducing a business process management (BPM) layer on top of the simulation process and data management (SPDM) capabilities. Now that you're more familiar with our BPM technology, let's take a closer look at the Services feature in VOLTA. Services bridge the gap between simulation workflows and business processes, enabling a wider audience of engineers to seamlessly perform multidisciplinary design optimization (MDO) tasks.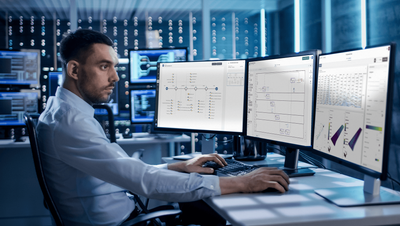 VOLTA Services: Unified CAE workflow and Business Process Management
In BPM, a service task refers to a specific activity within a business process that's performed by a service or system. It's an essential component of automating and streamlining business processes. A service task in BPM typically involves interaction with external systems, services, or applications to perform a specific function or retrieve information. It can include activities such as data retrieval, data transformation, calculations, validations, notifications, or integrations with other systems.
VOLTA Service task enables hyperautomation in simulation-driven design product development.
Marco Turchetto
VOLTA Product Manager
ESTECO
But, before diving into what VOLTA Services do, let's discuss why it enables hyperautomation in simulation-driven design product development. According to Gartner, hyperautomation is a business-driven, disciplined approach that organizations use to rapidly identify, vet and automate as many business and IT processes as possible. Hyperautomation involves the orchestrated use of multiple technologies, tools or platforms such as artificial intelligence (AI), machine learning (ML), BPM and other process and task automation tools. VOLTA relates to hyperautomation through its simulation process and data management (SPDM) framework empowered with CAD/CAE workflow automation, BPM and state-of-the-art design optimization technology. With hyperautomation, you can seamlessly integrate human tasks with automated simulation workflows and design space exploration strategies. By combining these elements into a single actionable business process, VOLTA enables you to hyperautomate your operations in simulation-driven product development, improve efficiency and find optimal designs.
1. Data interoperability with other systems
The integration of service tasks within a business process workflow is a significant step towards enabling a company's digital thread in simulation-driven design. Service tasks facilitate automatic retrieval of data and models from various sources such as model-based systems engineering (MBSE), product lifecycle management (PLM), or VOLTA Data Manager environment. This seamless data integration ensures that the right information is delivered to the right users and service tasks involved in the design process. This eliminates the need for manual data transfer and reduces the risk of errors or inconsistencies.
2. Enabling simulation workflow automation in the business process
All aspects of your engineering design process can be set up in VOLTA through a simulation workflow, which includes third-party CAD/CAE integration, simulation automation and design exploration or optimization strategy. VOLTA Service task enables you to embed a simulation workflow into the business process which automatically invokes the execution of design exploration or optimization studies. But, how to make the simulation accessible to non-experts?
To achieve this, as a method developer or simulation expert you can create a Service which is a simplified run configuration that others can use within the business process. The service exposes a partial set of design parameters for a specific simulation workflow. It's then referenced in a VOLTA service task that runs with inputs coming from the business process workflow. One key aspect of Services is their ability to incorporate design exploration or optimization strategies. This involves systematically exploring different combinations of design parameters to identify optimal solutions or understand the behavior of a system under varying conditions.
3. CAE democratization
With the introduction of Services in VOLTA, non-experts can easily leverage simulation workflows for design exploration and optimization studies. The process is straightforward: users interact with the business process through their assigned tasks to define a design configuration without requiring knowledge of simulation methods. Once the configuration is set, the simulation runs automatically, generating optimization results. After the simulation is complete, the generated data is fed back into the business process. Another task assignee can then use VOLTA Advisor's post-processing tools to analyze the simulation data further and make informed design decisions.
VOLTA BPM Service task in the context of multidisciplinary design optimization (MDO) analysis of a drone
Consider an aerospace company designing a new drone aiming to satisfy particular mission level performance requirements by decomposing the system requirements into multiple subsystems. The management of such complex design analyses requires a deep understanding of the process, including human and simulation activities, interdependencies between tasks, and the flow of data across domains. How do you map, sequence, and automate all the activities performed by the various subject matter experts (SMEs) involved in the drone design process?
Let's assume that:
A system engineer develops models of systems and subsystems using a MBSE tool and defines requirements for drone simulation analysis (propulsion specific fuel consumption, lift to drag ratio and mission range).
CAE engineers are respectively responsible for building, maintaining, and validating their respective aerodynamics, propulsion and mission simulations.
A simulation expert concatenates simulation models into an automated multidisciplinary workflow to perform design space exploration studies.
A technical manager needs to sign off on design decisions.
With VOLTA Modeler, you can map and sequence these human and simulation activities into a Business Process Model and Notation (BPMN) workflow. You assign user tasks to the SMEs to complete the drone design project and also include service tasks in the business process to propagate SysML requirements and execute multidisciplinary workflows empowered with design space exploration strategies.
When you execute the drone design analysis business process, what happens? The VOLTA Process Manager pulls the performance requirements (wing lift-to-drag ratio, propulsion, range) from the MBSE tool and injects them into the three simulation service tasks. Consequently, these service tasks will trigger the execution of the multidisciplinary workflows at the right time by injecting performance requirements and design variables into the simulation. Once the results of the design space exploration studies are available, the business process asks the simulation expert to evaluate whether or not the aerodynamics, propulsion and mission simulation results meet the requirements. If so, the technical manager approves the drone design, and the process ends. In the event requirements are not met, the process goes back to the system engineer who may request to modify design variables and/or requirements. Following these changes, the process automatically updates and runs the simulations again, saving you time and effort.
In summary, implementing a hyperautomation business-driven approach in engineering simulation may require a SPDM framework like VOLTA equipped with BPM, simulation process automation and design optimization capabilities. Human tasks can be linked together into a single actionable business process and automated simulation workflows can be integrated with AI-driven design space exploration strategies. By reducing human involvement and leveraging automation, this approach improves collaboration, accuracy, speed, and efficiency in simulation-driven design product development. Additionally, VOLTA's Business Process Model and Notation (BPMN) workflow ensures data interoperability with other systems, enabling the digital thread between SPDM and MBSE environments. This means that different systems and tools can seamlessly exchange information and work together, improving collaboration and efficiency throughout the product life cycle.
Enabling the digital thread with VOLTA SPDM
Overcome silos and make the best of simulation-driven product development.
Enabling the digital thread with VOLTA SPDM
Overcome silos and make the best of simulation-driven product development.
Read eBook
Enabling the digital thread with VOLTA SPDM
Overcome silos and make the best of simulation-driven product development.
Read eBook